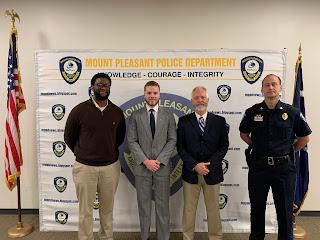 Chief Arnold swore in three officers this morning. Please welcome Officer Jalon Williams, Officer Brayden Knudsen, and Officer Dayne York. We look forward to having them as a part of our community.
Officer Jalon T. Williams is from Columbia, SC. He graduated from the Citadel with a B.S. in Sports Management and has started a master's degree in Sports Administration at Hampton University.
Officer Brayden Knudsen is from Harlan Iowa and served in the United States Marine Corps. After his service he graduated from the University of Iowa with a B.A. in Criminology, Law and Justice with a minor in Arabic Language and Literature.
Officer Dayne York comes to us with twenty three years of law enforcement experience. He is from Knoxville Tennessee and has a bachelor's degree in Fine Arts with a minor in Anthropology